So it's British Food Fortnight and we thought we'd share one of our favourite recipes showcasing British apples.
UK-grown apples are in season from September to the end of the year. There are an exciting variety of flavours, textures and shades – although you may need to look beyond the supermarket shelves to discover the best of British apples.  Many are perfect for enjoying on their own as a delicious, healthy, energy-boosting snack. And when used as an ingredient they can be transformed into some of the nation's favourite desserts – baked apples stuffed with dried fruit and sprinkled with cinnamon and a little brown sugar, warming apple crumble and custard, apple and blackberry pie, apple cake….time to go looking for some 'windfalls'!
Autumn Apple Cake
We used demerara sugar in this cake, which gave a deliciously crunchy result – but you could use soft brown sugar for a more traditional texture!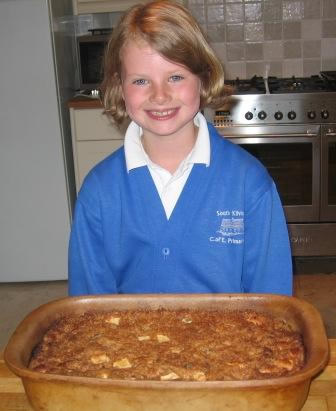 Ingredients (serves 24)
2 eggs
250ml rapeseed oil
150g brown sugar
275g plain flour
2 tsp ground cinnamon
1 tsp bicarbonate of soda
750g cooking apples
Lemon juice
Equipment
Knife, chopping board, peeler, mixing bowl, wooden spoon, teaspoon, weighing scales, 20x30cm cake tin
Method
Preheat the oven to 180oC, gas mark 4
Grease and flour a 20x30cm cake tin
Prepare the cooking apples: wash, peel, core & dice.  Sprinkle with lemon juice to stop them from going brown.
Beat oil and eggs until foamy. Add the sugar, flour, cinnamon, and bicarbonate of soda. Stir in the diced apples.
Spoon mixture into prepared tin (it will be very thick). Press down and smooth the surface.
Bake in preheated oven for 30-40 minutes. Cool cake in tin for 10 minutes before removing.
Delicious served warm or cold, on its own or with natural yoghurt. Keeps well for a few days in an airtight container.