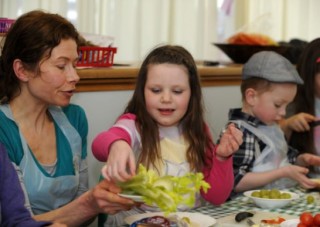 The spotlight was shining on Carr Infant School in York last week.  Not satisfied with celebrating World Book Day in a range of fabulous costumes, the school also managed to deliver their regular PhunkyFoods sessions with their reception and year 2 children, and to host visitors from the PhunkyFoods team and the Yorkshire Post!  Here's what journalist Sarah Freeman observed….
"Sat around the table are three princesses, one pirate and Batman. It's World Book Day at Carr Infant School in York, but it's also time for the next instalment in the PhunkyFoods programme.
Under the guidance of teaching assistant Beverley Phillips the children are making teddy bear toast. There's only four ingredients – a slice of bread, banana, raisins and low fat spread, but Batman registers his concern early on. He doesn't like bananas.
"Don't worry, remember what we say, 'have a sniff, have a lick and if you still don't like it, put it in the bin'." The banana goes in the bin, but at least Batman has tried and that's' the point of many of the sessions.
It's about opening children's eyes to food in the hope they may in turn influence their parents. "I have seen children who every day go to school with ketchup sandwiches in their pack-up," says PhunkyFoods dietician Michelle Hanchard. "They eat it because they don't know any different."
An hour later the school's cookery club is underway. Today's lesson is in healthy bagels, wraps and sandwiches. The combination of cream cheese, strawberry and carrots and grapes might be eclectic, but it goes down well. Last week they tried bruschetta.
"It was so good that my dad asked what shop we'd bought it from," says one. It's the kind of small victory which PhunkyFoods believes could change appetites for the better and for good."   (Click here to read the full article).