Following the success of last term's International Chefs Day, this week our partner Professional Chefs from Nestlé gave children from two PhunkyFoods schools a taste of serving up delicious looking food and unique insights into why working as a chef is a career of choice.
Approximately 60 students from Tyneview Primary School in Newcastle and Victoria Community Primary School in Burton upon Trent took part in the half-day sessions, which involved children in the cooking and presentation of meals, making it fun and interactive. This is a great way to ensure good eating habits are established early on. Encouraging children to be creative with food allows them to be adventurous and discover new foods they may otherwise avoid.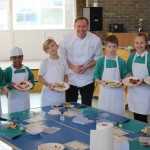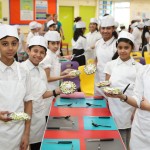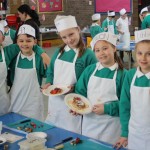 The Nestlé Professional chefs also gave students unique insights into a day in the life of a chef and why being a chef is a career destination of choice.
And then the students got to wash up! The Year 6 teachers from Victoria Community Primary said;
"A wonderful, extremely well organised morning of fun, humor & cookery. The children were engrossed by Darren and the team from the moment they walked in to the very last second, even the washing up was enjoyable.
Pizza making, salad creating & pancake decorating are all things that our children would not have the chance to experience at home, but thanks to you guys they have all had a chance to take part. All children left the room with a smile on their faces, excited to do more at home & share their experiences with their families."
Pupils from Tyneview Primary School said;
"I thought today was amazing because I cooked with a chef and it was cool to see how to cook."
"I thought today was really good! I enjoyed when we did art on the pancake."
"I thought that the food what we made was amazing especially the pizza and pancakes – it was so nice. Thank you so much."
This work in partnership with the PhunkyFoods Programme forms part of Nestlé's Global commitment to promote children's nutrition, health and well-being through Nestlé Healthy Kids Programme. For more information on the Nestlé Global Healthy Kids Programme, please visit: http://www.nestle.com/nutrition-health-wellness/kids-best-start/children-family/healthy-kids-programme