Our PhunkyFoods Drain Your Drinks message highlights to children the importance of  drinking plenty of sugar-free fluids each day.
At the end of this page you will find a PDF version of this information. You can download it, print it out and stick it on your fridge or noticeboard to remind the whole family to Drain Your Drinks!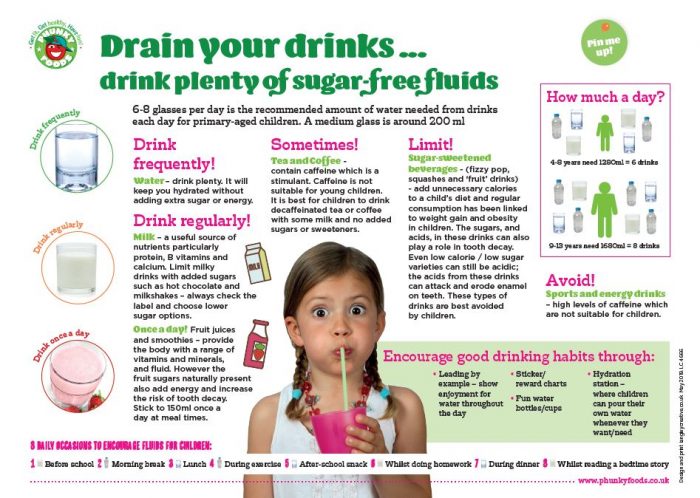 Why is it important to stay hydrated?
Water is essential for life. Throughout our body water is involved in many different functions including temperature regulation, transportation of nutrients, removal of waste products through urine and lubrication of our joints.
Good hydration is vital for our short term health; it can help prevent constipation, kidney stones and urinary tract infections, as well as longer term complications.
Without sufficient water dehydration can occur. Symptoms include tiredness, poor concentration, headaches and dizziness.
There is also evidence that good hydration has a positive impact on cognition and mental function. In children there is some evidence that those who drink extra water perform better in recall and memory tasks (1, 2).
How much?
6-8 glasses per day is the recommended amount of water needed from drinks each day for primary-aged children (3). A medium glass is around 200 ml.
Children, aged 4-8 years of age need around 1280 ml of water from drinks each day (~ 6 glasses). (4)
Children, aged 9-13 years of age need up to 1680 ml of water from drinks each day (~8 glasses). (4)
Keep in mind though that these are average figures. An individual child's needs will depend on many different factors such as how much exercise they're doing and what the temperature is. Losing water through sweat is how we control our body temperature, but this lost water needs replacing through food and drink.
What counts?
The good news is that all drinks count - but that's not to say that all drinks are good for us!
Water is the cheapest and healthiest way to hydrate our bodies, and in the UK tap water is a fantastic way to make sure you and your children get enough to drink. A filter jug kept in the fridge is a great way to keep your tap water cool, and some people prefer the taste of filtered water. Plain bottled water (with no extras added) offers no more benefit for your hydration levels than tap water; it's just a matter of taste and of course cost.
Flavoured water will hydrate you as well as tap water, but beware because often these bottled flavoured waters can contain a surprisingly large amount of added sugar so check the label before you buy.
Sugar-sweetened beverages such as fizzy pop, squashes, milkshakes and 'fruit' drinks can add unnecessary calories to a child's diet, and regular consumption of these types of drinks has even been linked to weight gain and obesity in children (5). The sugars, and acids, from these types of drinks can also play a role in tooth decay. Even low calorie or low sugar varieties of fizzy drinks and 'fruit' drinks/squashes are still acidic; the acids from these drinks can attack and erode enamel on teeth. These types of drinks are always best avoided by children.
Plain milk is a healthy way to provide children with fluids, and it also contains beneficial nutrients like protein, calcium and B vitamins. After two years of age children should drink semi-skimmed milk.
Fruit juices and smoothies contain lots of vitamins that are beneficial to children's health, and one 150 ml glass a day can count towards your child's 5-a-day. But remember they also contain large amounts of sugar which can cause damage to teeth. The fruits in these types of drinks have been processed, squashed and blended, unlike with whole fruit this means that the sugar is released from the fruit cells and is more available to cause damage to teeth. These types of drinks should only be given to children at mealtimes, and only once a day.
Tea and coffee contain caffeine which is a stimulant. Some people are more susceptible to the effects of caffeine than others, and caffeine is not suitable for young children. It is best for children to drink decaffeinated tea or coffee with some milk and no added sugars or sweeteners. If you start out by adding sugar to drinks it can be a very difficult habit to kick!
Hydration and bed-wetting
Bed-wetting can be common in children and it can have considerable effects on their confidence and self-esteem, however there is no need to stop a child drinking before going to bed. Ideally they should drink normally until about an hour before going to bed and then drink mouthfuls instead of glasses to relieve their thirst. There is no evidence to suggest that avoiding consumption of fluid before bedtime reduces the risk of bed-wetting (6).
It is possible that bed wetting can be linked to children not drinking enough fluids throughout the day and the overloading in the evening because they are thirsty (6). Ensure you child drinks sufficiently throughout the day, and enlist the support of their teacher at school if that helps.
Hydration and additives
Are additives bad for my child?
Additives sometimes receive bad press, and some are often linked with disorders including hyperactivity, allergies and even cancer. These perceptions often lack scientific evidence. The stringent testing and strict regulations we have in the EU mean that if additives displayed any adverse health effects in the quantities they are normally consumed, they would not be permitted in food and drink for human consumption.
Why are they added to drinks?
Additives are added to food and drinks for a number of functions;
Flavourings and colourings are used to enhance taste and appearance.
Some act as preservatives.
Sweeteners are added for taste and to reduce the amount of sugar required.
Food colours and hyperactivity
Food additives have to go undergo stringent testing before they can be approved for human consumption. Research has suggested that consumption of mixes of certain artificial food colours and the preservative sodium benzoate could be linked to hyperactivity in some children. For further details visit the Food Standards Agency website www.food.gov.uk/safety-hygiene/food-additives 
In summary
Children are at a greater risk of dehydration than adults, and as a child's body is around 60% water it is really important that they have sufficient opportunities to top up their fluid intakes throughout the day. Water and milk are the best choices for children to drink.
Further Information
https://www.nhs.uk/live-well/eat-well/water-drinks-nutrition/
www.nhs.uk/change4life/food-facts/healthier-snacks-for-kids/lower-sugar-drinks-for-kids-stop-tooth-decay
www.bda.uk.com/foodfacts/fluid_water_drinks 
References
(1) Edmonds, Caroline, J.; Burford, Denise. (2009) Should children drink more water? The effects of drinking water on cognition in children. Appetite, Volume 52 (3).
(2) Benton, David.; Burgess, Naomi. (2009) The effect of the consumption of water on the memory and attention of children. Appetite, Volume 53 (1).
(3) Public Health England in association with the Welsh government, Food Standards Scotland and the Food Standards Agency in Northern Ireland. Eatwell Guide.
(4) European Food Safety Authority (2010) Scientific opinion on dietary reference values for water. EFSA, Italy.
(5) Malik, VS. et al. (2006) Intake of sugar-sweetened beverages and weight gain: a systematic review. American Journal of Clinical Nutrition 84 (2) 274-88.
(6) Dr Emma Darbyshire (2014) Hydration for Children. Natural Hydration Council, 1-5.