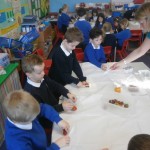 It seems as though the Year 1s and 2s at Wigginton Primary in York had a great learning experience last week when they were visited by our fabulous support worker, Judith. The group took a quick look at the eatwell plate and the 5-a-day message before starting their hands-on food preparation session making some delicious Supercrunch puddings.
Here are some of their comments collected after their session …
Thank you for the chance to try new foods. I had never tired Granola before!
Aoife, Y2
I had never tried grapes before and I liked them. Thank you!
Hannah, Y1
I found using the bridge an easy way to cut fruit.
Blaise, Y1
I learnt all about the different food groups.
Maddie, Y1
Now I know not to eat too many sweets and cakes.
Layla, Y2
I've never tried peaches before and I really liked them.
Daniel, Y2
Great job guys! We're so glad you enjoyed your PhunkyFoods session with Judith and don't forget every day we aim to … Get Fit, Get Healthy, Have Fun!