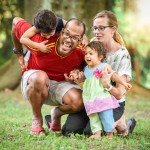 Research evidence indicates that parent support is an important factor in the success of healthy lifestyle programmes delivered in schools1.  It stands to reason: teaching staff can influence their pupils' lifestyle knowledge and behaviour within the school setting, but positive changes can only extend to the home setting when parents and families have the knowledge, skills and resources to offer healthier lifestyles beyond the school gates.
Parental involvement can take many different forms, including bringing in family members to help with – or even lead – cooking, growing and sports sessions.  Parents who may have felt excluded from 'playground cliques' have the opportunity to make new friends and feel more included in school life. Not only will families themselves benefit from their involvement in numerous other ways, but schools get extra pairs of hands, and can tap into a potentially huge bank of skills and expertise.
Setting 'homework' relevant to healthy lifestyles is another way of involving families; research evidence suggests that homework which is "novel, fun and involve social contact are enjoyed by parents and children and may increase awareness of healthy diet and physical activity"2.  To this end, PhunkyFoods have recently introduced family-friendly, take home "Missions" which are attached to every lesson plan within our healthy eating curriculum.
Here are a few more practical ideas we've gathered from schools which are successfully involving families in the PhunkyFoods Programme:
Send home recipes following in-school cooking sessions.
Invite families to take part in after-school club cooking or growing sessions – or at least invite them to observe the last 15 minutes when they come to collect their children.
Invite families to PhunkyFoods assemblies, performances and displays of work – parents' evenings, sports days and school fairs can provide excellent opportunities.
Show the PhunkyFoods Introductory Video at a PTA meeting or parents evening.
Add a link to our blog to your school website / PTA facebook page.
Invite families to submit a guest blog to us about the challenges and successes of trying to follow a healthy lifestyle! Email [email protected]
Include a few lines about your PhunkyFoods work in the school newsletter.  Perhaps the children could be asked to write / illustrate a news article about their work.
 Ultimately, you may find that you have one or two healthy lifestyle 'champions'3 amongst your parents, who are trusted by and relate well to other parents and can pro-actively encourage them to support healthy lifestyle policies and projects within and beyond the school community.  Then you have really hit on gold!
PLEASE let us know your experiences of family involvement and help us spread the word – email [email protected] – we look forward to hearing from you!
References:
Waters E, de Silva-Sanigorski A, Hall BJ, Brown T, Campbell KJ, Gao Y, Armstrong R, Prosser L, Summerbell CD (2011) Interventions for preventing obesity in children. Cochrane Database of Systematic Reviews 2011, Issue 12.
Kipping RR, Jago R and Lawlor DA. (2012) Developing parent involvement in a school-based child obesity prevention intervention: a qualitative study and process evaluation.Journal of Public Health, 34 (2): 236-244.
National Institute for Health and Clinical Excellence (2012) Obesity: working with local communities. NICE Public Health Guidance 42.