A fun and Phunky time was had by all at Badger Hill Primary school in York last week when our local PhunkyFoods support worker, Judith, visited. Over the course of the day Judith worked with the whole school; delivering an assembly which introduced healthy eating by using the eatwell plate, and running hands-on pupil workshops across the school. The workshops ensured that all pupils got some hands-on food experience by practising their knife skills and preparing (and of course eating!) a delicious Supercrunch pudding. Well done guys!
"The children really enjoyed the workshops, the session was really well resourced and appropriate for the class." Year 1 Teacher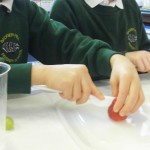 "The session was pitched at just the right level for our class, which is really tricky to do when you don't know the children. The cutting skills were an important element and a valuable lesson for the children." Year 3 Teacher
"The children looked as though they were thoroughly enjoying the workshop, and by the look of all the empty cups, enjoyed their supercrunch too!" Head Teacher.