Plenty of PhunkyFoods activity going on over the last few weeks in Copeland, Cumbria! Our two local Engagement and Development Coordinators, Gill and Harriet, have been training up school staff to get them prepared and confident to deliver the PhunkyFoods Programme in 22 primary schools across the region from September. It was great to welcome Annie Brooks from the NHS Dental Oral health Team to our events too. It sounds like everyone got a lot out of the sessions and the feedback from participants was fantastic! Here's a little taste of the feedback received:
"Having a go at the practical activities was helpful to think about how I would use the activity with my class"
"Great ideas for cold food preparation ideas in class"
"The practical aspects of the day were helpful as they gave a good idea of how simple making the recipes can be."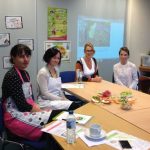 "I think it was useful to be as a Head teacher attending as the programme is so all encompassing, it needs to be a whole school approach."
"Brilliant day, very informative"
"The training day was enjoyable, fun and informative"
"The website offers so much!"
We're so pleased everyone got so much out of the day, and we're really looking forward to hearing about how schools in Copeland progress with the programme in the new academic year, and welcoming our new Phunky pupils on board!