The PhunkyFoods Bag A Breakfast message is a really important one for our children; teaching them why breakfast is so vital and what healthier breakfast options might look like.
At the end of this page you will find a PDF version of this information. You can download it, print it out and stick it on your fridge or noticeboard to help you and your family to be able to plan a healthy, balanced diet.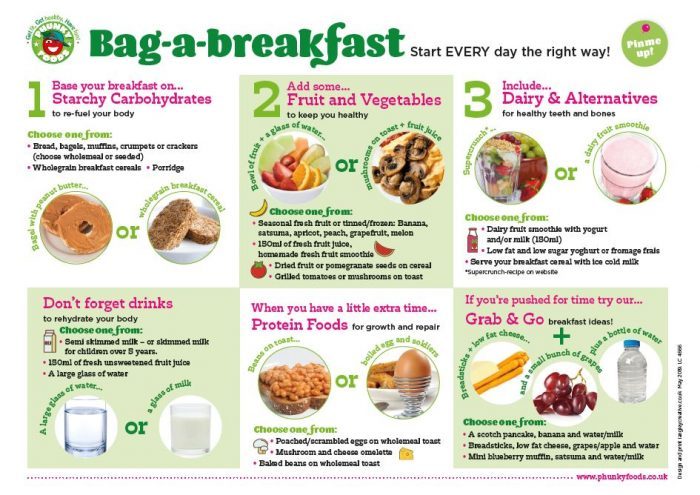 The importance of breakfast
Whilst breakfast is no more, or less, important than any other meal, kick starting your day the right way IS important. Breakfast is the opportunity to top up the energy stores used by your body overnight, and to provide essential nutrients such as fibre, vitamins and minerals. Plus scientific studies have shown that eating breakfast might improve our mental performance, our ability to concentrate, and our mood – three great reasons to eat a healthy breakfast every day!
What is a healthy breakfast?
A healthy breakfast is one which provides a variety of foods from the main food groups of the Eatwell Guide – fruit and vegetables; starchy carbohydrates; dairy foods and perhaps some protein too. You can make healthier breakfast choices by choosing higher fibre, wholegrain varieties of breads and cereals, and by choosing lower sugar options where possible. Be sure to check the labels: breakfast cereals can be a perfect quick and easy option but many are laden with salt and sugar.
Adding semi-skimmed milk to cereal, or a yogurt to your breakfast will give you important protein, calcium and B vitamins. Whilst adding a fruit element will boost your vitamin intake and get you well on your way to your 5-a-day!
Meat, fish, eggs and beans, and vegetarian/vegan alternatives, will give you protein, iron and vitamins, and whilst not essential at breakfast they can provide an interesting alternative on days when you have a little more time. Just make sure that meat products, such as bacon and sausages, are eaten only occasionally as they are higher in saturated fat.
Best breakfast drinks
Re-hydrating first thing in the morning is vital, and water is always the best option. However milk, pure fruit juice, tea or coffee also supply fluid and, providing no additional sugar is added, provide a healthy option. Just remember that even fresh fruit juice, and smoothies, contain natural sugars which will add energy to the diet and increase the risk of tooth decay so stick to one 150ml glass per day.
What if I don't want breakfast?
Some people just don't feel like eating as soon as they wake up; that's okay but, if you can, you should try and eat within a couple of hours of getting up. Taking breakfast items on the go with you can help with this. Good choices could be a banana or a piece of malt loaf/fruit bread, or perhaps a yogurt with granola sprinkled on.
I don't have time for breakfast!
Plan, plan, plan ahead. Set the table the night before, or make items in advance that you can simply grab from the fridge. Beware high sugar pre-packaged breakfast items such as breakfast bars or cereal "drinks" – instead make your own by sprinkling granola on a yogurt, or eating a piece of fruit with some dry cereal.
Further information
www.bda.uk.com/foodfacts/healthy_breakfast
For more healthy breakfast ideas and recipes visit: www.phunkyfoods.co.uk/recipes/