Case Studies
We receive a huge amount of very positive feedback from our early years settings, primary schools and local council partners. Below are a small number of recent case studies detailing how some schools and early years settings are implementing the PhunkyFoods Programme.
Alison Oliver, Assistant Head at Norland C of E Junior & Infant School, SOWERBY BRIDGE (July 2017)
Norland is a small, rural, primary village school with 95 pupils who are drawn from a wide catchment area and diverse backgrounds. Pupil premium, FSM and SEN are all below national averages. There are 4 classes, 3 of which are mixed year groups. School was rated 'good' by OFSTED, December 2016. School meals are externally provided.
When I joined the school in April 2015, the unsettled staffing arrangements were being addressed by the Headteacher; core subjects were, out of necessity, the focus and there was little capacity to extend this to the wider curriculum so the healthy living environment across the school was in need of leadership and direction.
The SLT made some immediate changes to the dining experience for the children: a new school lunch provider was appointed to raise the quality of the provision; the fixed-stool-tables were replaced with café-style dining at octagonal tables and free-standing chairs; flight trays were exchanged for plates and bowls; and fresh water was provided on each table. These actions contributed to the school's Healthy School's status being reinstated.
During the Autumn term 2015, I was contacted by Helena Glancy from Phunky Foods and our initial meeting proved to be the beginning of what has developed into a fantastic relationship for our school. She and the programme are now an integral part to our Healthy living/PSHE/DT curriculum.
Staffing was now settled and Helena ran an informative training session during a staff meeting. She and I conducted a self- assessment/health check and put a plan together to address these.
In particular, I was keen to provide opportunities for the children to take responsibility; across school, we were encouraging a move from passive to active learning. The programme allowed for this perfectly: as Helena helped establish our Food Ambassadors, the healthy messages were raising awareness and the children were growing in confidence as they undertook workshops. Natural progression has meant that that year 2016-17 saw the Ambassadors planning and delivering class workshops (e.g. making 'minibeasts' from fruit and vegetables for Reception and Year One) and whole school assemblies – which have even included parents.  The new Year Fives for 2017-18 are excited about the prospect of this role and they will be asked to 'apply' for it – something I could only have dreamed of happening, two years ago.
Other direct benefits of the programme include:
Working with Parents and Carers to promote healthier snacks and lunch boxes (Helena has supported several 'Health Extravaganza' days and other smaller events)
Working across the school community to address sugar in drinks in order to help the choices being made outside school where only fresh water is available
Teaching cooking skills and giving the children time to practise recipes that are healthy, quick and easy, then taking the food home to share ideas
Use of the 'green box' DVDs  and website to support planning and cross-curricular links
2 members of staff have signed up to undertake the Level 2 NCFE Nutrition and Health of school aged children
Whilst Helena has worked with the staff and children it is important to note that she has also taken groups independently: she has always been an excellent role model. She is helping to motivate the children to make healthy choices and develop healthy lifestyle habits because it is a 'good' thing for the individual's life rather than because of some extrinsic reward. Importantly for school, she has always followed school policy and expected the highest standards of behaviour and learning.
I would strongly recommend the Phunky Food programme to any primary school.
Sara Williams, Year 2 Teacher at West St Leonard's Primary Academy, EAST SUSSEX (July 2017)
We started the Phunkyfoods programme in September 2015. All of our staff were initially trained at a staff meeting training session and the resources are used across the school. We carried out a Phunkyfoods health check with our EDC in June 2016 to make improvements to the healthy living environment across the school and recently reviewed it. Some of the positive improvements include:
Working with parents to promote healthier snacks
Making sure the breakfasts on offer are consistent with healthy eating messages (sugary options have been limited and healthier food is now on offer)
Giving pupils the opportunity to do farm based activities
Keeping pupils physically active in all lessons
Involving community partners in growing, cooking and physical activity programmes
Using reward based initiatives to promote healthy lifestyles (the school is taking part in the Golden Mile; we also do 'Just dance' everyday with classes competing and weekly certificates)
With my class, I now regularly refer to the Eatwell guide and I and other colleagues encourage the children to make healthier choices at lunchtime. I like to use the PSHE approach – showing children how to appreciate their bodies and value themselves as well as being aware of other cultures, of food hygiene, of the social experience, of vegetarianism etc. Since the health check, I have started eating lunch with the children on a regular basis and have found it a very positive experience; we all enjoy it!
Fiona McManus, PSHE Coordinator at Elmwood Junior School, CROYDON (July 2017)
The PhunkyFoods program has been absolutely fantastic this year. Wendy Walsh has delivered a number of informative assemblies and workshops to the whole school to promote healthy lunches and to deliver the message 'Strive for Five'. In the most recent assembly, Wendy demonstrated how to make fruit smoothies and some of the children had the opportunity to taste them.  In addition, Wendy ran an Egyptian food tasting session on Ancient Egyptian Day and she provided ideas for recipes for the Year 4 Roman day.
We have also appointed two PhunkyFood Ambassadors in the school who assisted Wendy in her most recent assembly. They have also delivered an assembly to promote the message 'Strive for Five' and their new message is 'Drain your Drinks', an initiative to stay hydrated every day.
At the beginning of this academic year, Wendy delivered a staff meeting about the PhunkyFoods website and all of the resource available for the teachers to use. The resources are extremely useful, interactive and informative. We look forward to working with PhunkyFoods next year!
Nathan Cline, Headteacher at Guestling Bradshaw Primary School, EAST SUSSEX (July 2017)
We started the PhunkyFoods programme in September 2015. One of our teachers attended the PhunkyFoods training day and our EDC, Georgina, then delivered a short twilight training session at one of our staff meetings. Two members of staff have also taken up their places on the level 2 NCFE Nutrition and Health of School aged children.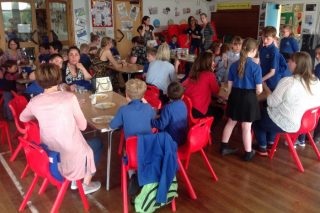 Since carrying out the PhunkyFoods health check, we have made significant changes to improve the healthy living environment for pupils and staff: there is a governor approved food policy with an action plan; the dining experience has improved and work has been done to improve packed lunches; the children have taken part in themed assemblies and healthy eating workshops and the school now runs a cooking and gardening club; staff are ensuring the children are keeping active with a combination of  workout videos and the Phunky15 resources We have also been positively engaging with parents and carers and ran a well-attended and positively received Eatwell workshop in May 2017.
We use the Phunkyfoods resources across the school and find the assembly ideas and topic learning sheets particularly useful; the website and resources are bright, fun and easy to use and the lesson plans tie in nicely with PSHE and curriculum objectives.
Sallie Broomby, Teacher at Cumwhinton Primary School, CARLISLE (July 2017)
As a school we have had the Phunky Foods resources in school for a couple of years but staff were unsure as to how they could be implemented with lessons etc.
We then sent 2 members of staff to the Phunky Foods course in Carlisle run by Gill Douglas, our local EDC. The course was hugely helpful and as well as showing how easy simple meals can be make, it also went through the added extras that are available on the website.
After the course one of the members of staff then went on to complete the Level 2 NCFE Nutrition and Health in School aged Children, this was an easy course to complete and was completed over the summer break of 2016.
Since completing the course with Gill, one of the members of staff has now set up a Phunky Foods cook club. This initially got off to a shaky start with the children being unsure of what 'Phunky Foods' were, but after an initial uptake of 5 children for the first term of the club, we can now happily say our final term had an uptake of 40 children!! The club runs every Thursday night and the children experience making the recipes from the website. They prep, cook, clean and eat all in one session and are then given the recipe to take home and try and make themselves. All the children have given positive feedback- even when making mackerel pate!
We have also managed to raise awareness throughout the school on the importance of healthy eating from not only an early age (free fruit for the younger children is offered as standard) but the importance of it being maintained, therefore we now offer free fruit to all KS2 pupils at morning break- this also has been received well by the pupils.
Since completing the NCFE course I myself have encouraged the older children to model the importance of fitness and staying active, we have 2 children in Year 5 who run a lunchtime games club for our EYFS children, using the Phunky 15 Physical Activity games cards they help the littlest children in school stay active as well as teaching them new games to play in the playground.
We also have children who have now completed the first section of the Phunky Ambassador course 'Get Active' and have now moved onto the 'Strive for 5' again using the little children to teach, this has been an amazing resource for the children to work with, it is easy to follow and the children's confidence has gone from strength to strength. They are currently offering the children new and unusual fruit to try and fining out where they come from.
Gill came recently to run a full school drain your drinks assembly, this was again received well with the children chattering about what they had learnt from having to sip water rather than gulp to how to make smoothies easily.
Gill got the head teacher and me to do a health check and look at other options we could offer for pupils. She linked us to a lady at vista veg who supports growing projects and we now have a growing club in school this term so children have grown peas, courgettes, carrots, beetroot and herbs which we've used.
I think the Phunky Foods resources are a great asset to the school and will go from strength to strength as teachers become more aware of the ease of use and the merits of using it, my plan is to show the teachers the lesson plans they can use for topics next year too.
Barbara Love, PPA teacher at Pentland Primary School, STOCKTON (July 2017)
I am part of the PPA team at the school and there are 3 teachers and myself who focus on delivering the sessions.  We've found a model that works best for our school as to how to deliver the sessions.
The teachers deliver the RE lesson to the 3 classes in a Year group and I take 10 children each week from that year group.  I collect the children after lunch and go to the dining hall, where we use the Phunky Foods Religion and Food workbooks to cover that particular religion that is being focused on during that term, we then cook some of food from that religion, lay the table, eat and clean up. The children take turns to carry out clearing up jobs, doing crosswords/word searches, colouring in and using any other resources provided by Phunky Foods.  This applies to Year 1 children through to Year 6 children.
For Reception children for the first 2 terms I take 7 children each week and we follow the Early Years Phunky Foods programme watching the Interactive Big Book and carrying out activities and making food.  Once the children are back from Easter and a little more grown up we go to the dining hall and bake.   There are just under 100 children in each mixed year group so it takes a while to get through the whole school
I run a children and parents cookery session on a Wednesday night straight after school.  Numbers are capped at 8 children and 8 parents and we use a mixture of Phunky Foods recipes as well as some of my own.  Due to overwhelming demand I will adding an additional session running on Thursday nights.
We recently opened a Reading Cafe, this is on Thursdays after school and has proved to be highly popular, to keep it fresh it has been decided to run this on the first Thursday of each month.  The Reading Cafe is themed and so far we have covered Julia Donaldson, Traditional Tales and Roald Dahl.  The children are accompanied by an adult, a creche is provided for any younger siblings and adults and children engage with teachers reading, carrying out phonics and using ibooks.  We have a raffle and a quiz with books as prizes.  The Reading Cafe provides gastronomic delights cooked that afternoon by the children in the year group I am working with, with coffee or tea to wash it down.
Charlene Carrett, PSHE Leader at Pegasus Academy Trust, CROYDON (1600 pupils across 4 schools)
We became involved with the PhunkyFoods Programme because we were missing a nutrition scheme of work and we wanted to teach more food related topics. We wanted our children to have a better understanding of how to live a healthy lifestyle. We have been running the PhunkyFoods Programme for one year now. All staff members were trained during an inset day and since then we have delivered parent workshops, assemblies, children's food workshops and we have also used the resources and lesson plans during class work. The pupils are really benefiting from the PhunkyFoods Programme and they are now able to make and discuss healthy choices; they enjoy talking about food and can make healthy snacks. Our results in health and self-care in Reception have definitely increased this year as we placed a greater emphasis on PhunkyFoods in Reception. The Reception children are very articulate about discussing healthy eating and the benefits. We recently took part in food growing and sold our vegetables at a local market and we also involve parents in the programme through parent workshops. Moving forward we are working on supporting the Juniors more. The Juniors have topics and we would like them to incorporate the PhunkyFoods lesson plans through their topic work.
Nicola Hutchinson, Teacher and Healthy Lifestyle Coordinator at Elland CE Primary School, HALIFAX (205 pupils)
We started the PhunkyFoods Programme in order to gain more knowledge and training on how to deliver healthy lifestyle messages to children. We already had cooking and planting vegetables up and running in our school but we wanted to give children more of an insight into nutrition and the importance of looking after ourselves. We have been running the PhunkyFoods Programme for a term and a half. We have implemented PhunkyFoods lessons as part of our PSHCE lessons and PhunkyFoods PE lessons for Key Stage One. Every class used the Phunky15 during healthy eating week. We have also had our local PhunkyFoods Community Support Worker, Helena, come into our school and deliver assemblies, worked with every class in the school during healthy eating week and supported us in our parent cooking workshop.
We have found PhunkyFoods to be a fun and exciting way to engage children with healthy eating. There are plenty of resources and no planning needed for teachers or TAs as it is all done for you. And pupils are given quality lessons with appropriate and fun resources. Since starting PhunkyFoods I have found that staff are more willing to deliver a healthy lifestyles lesson, children are making healthier choices at lunchtime and pupils are more aware of how to keep themselves healthy.
Connie Griffin, PSCHE Coordinator and Year 5/6 Teacher at Holy Cross CE Primary School, EAST SUSSEX.
We started the PhunkyFoods programme as we wanted to achieve healthy schools status. Health had slipped and children were bringing in and buying unhealthy snacks in school. We wanted to make a change.
We've been running the Phunkyfoods programme for 9 months now and using a whole school approach. We've also been running a PhunkyClub since January 2016. We think it's important to get these messages across to the children, to help change their ways and habits and to encourage them to exercise, eat breakfast and have more energy.
Since carrying out the health check with our PhunkyFoods Community Support Worker, Georgina, we have made significant changes over the past nine months: we have transformed the dining environment and seen real changes in behaviour and levels of noise; we now only have healthy snacks in school and our children are having more opportunities to cook and prepare healthy, savoury recipes. We have developed our links with community partners and parents and this all culminated in a healthy school picnic that everyone enjoyed. We are starting to see changes and get really positive feedback from parents who say that their children are making healthier choices and doing more physical activity.
The resources are educational, easy to use and there's a wealth of information at the tap of a button. The Programme has been a real success this year and we look forward to taking it further next year.
Julie Baines, Principal Teacher at Forehill Primary School, GIRVAN (540 pupils).
Over the past two years teachers have been using the PhunkyFoods resource pack in school and PhunkyFoods online resources to supplement teaching and learning within topics they are currently delivering. The children have enjoyed taking part in a variety of activities. The programme provides high quality resources which help, teachers and pupils to engage with effective teaching and learning e.g. Primary 2 pupils as part of a shares learning afternoon with their parents loved creating the toppings for their bagels as set out in one of your lessons. During this time I worked with a child who does not like food and has great difficulty when it comes to lunchtime. I was delighted when he happily engaged in the bagel activity and went on to stun us all by eating what he made. He was eager to complete a follow up functional writing task about what he made. It was the first time we had heard the child say "I can do it".
 The Drain Your Drinks Assembly delivered by Connor form PhunkyFoods was excellent. The children were animated and keen to participate throughout the delivery of the presentation. It facilitated great follow up discussions in the class with many children going home to share the information with their parents.  One child at the school youth club that evening told me that he decided that he bought a bottle of water to drink instead of his usual carton of juice as it was better for him.
Fran Simpson, Head of School at Parkland Infant School, EAST SUSSEX (180 pupils).
We joined the PhunkyFoods programme in September 2015 to develop our healthy lifestyle work in school. Our Community Support Worker, Georgina, came into school to deliver some training on the programme which we then cascaded to all staff in both schools. A member of staff from our Junior school also attended the full PhunkyFoods training day.
We took part in a health check in January 2016 which was reviewed in June 2016. As a result of the health check, we drafted a new school food policy, arranged a farm visit for Year 1 and introduced staff eating with the children at lunchtimes. We set up a summer sports and summer holiday project, a food tasting project for International Food Day and a growing project plus a new reward system connected to making healthy choices.
The health check was a fantastic tool and together with a lot of effort from staff, we have made big changes in the quality of our teaching and learning on healthy lifestyles.
In our breakfast club, we now have fresh fruit everyday and the staff, who also use the PhunkyFoods website resources, made the 'Supercrunch' dish with the children. We have also worked to improve the quality of packed lunches.
This term we have been working with parents to get the key messages across. We have shared the resources on the website with them and we add a PhunkyFoods recipe to our newsletter every week. This term we held two workshops for parents and their children on the themes of healthy lunchboxes and getting active and in September 2016 we are introducing a parent/child aerobics and relaxation course.
Nikki Hall, Teacher and Design & Technology Subject Leader at Kingmoor Nursery & Infant School, CARLISLE (240 pupils).
Through analysis of teaching and learning in Design Technology throughout our school and with the introduction of the new curriculum which emphasised the importance of teaching children skills which relate to cooking and healthy eating we decided that, as a priority over the year, we would focus on developing our whole school cooking programme. We selected the PhunkyFoods programme because unlike other programmes offered we were given leadership and support from Gill our local PhunkyFoods coordinator. As the in school leader of the programme this was invaluable as it not only gave me the confidence to deliver the programme to staff within the school it also gave me the opportunity to contact Gill and ask questions, request support and network ideas. Our success with the PhunkyFoods programme over the last year has been down to the support, advice and communication provided by Gill.
The Programme was purchased and soon after our school received the PhunkyFoods box of resources. Gill contacted the school to offer guidance on how to begin to implement the programme here at Kingmoor Nursery and infant school. A meeting was arranged where Gill helped me to complete an action plan and advised me of how she can help further develop the programme in our school. Through my initial meeting with Gill the following training days took place: A whole school staff meeting to introduce the PhunkyFoods programme- Gill attended this meeting and showcased the programme and resources available. She answered staff questions and provided us with unique ideas on how to engage our children and parents. All staff commented on how enthusiastic, knowledgeable and willing Gill was to help our school get the most out of the programme. Three training days for Teaching Assistants then took place. Gill planned activities which suited children in Foundation stage, Year 1 and Year 2. She delivered lessons throughout the school where teaching assistants were able to observe good practice and then have a go at delivering a cooking lesson themselves. She answered questions and showed staff how to use the resources and PhunkyFoods website.
From September to date our school has implemented the following:
All staff now are aware of the cooking skills which are to be developed. Planning is supported by the PhunkyFoods website.
Cooking resources were audited and new cooking equipment was purchased.
School trips were booked which focused on cooking and healthy eating.
We created a whole school cooking policy which was shared with staff a governors.
Cross Curricular cooking opportunities were planned e.g. Fair trade cooking event, fundraising cooking etc.
Planning for an afterschool cooking club has been completed and is set for starting in September.
Homework opportunities linked to PhunkyFoods.
Since starting PhunkyFoods our pupils have increased in their ability to carry out basic cooking skills such as cutting, spreading, weighing etc.  They are more aware of healthy eating choices and their knowledge and understanding of key healthy eating messages such as "five a day" and the "healthy eating plate" have improved tenfold. The children are more enthusiastic towards cooking lessons and their engagement has also increased. Children are now more involved and independent due to the improvement of planning.  Children are now more willing to try new foods at lunch times and more children are attempting to eat salad and vegetables. Savoury recipes which are completed in class are sent home to parents so that learning can be shared. Homework which encourages children to practice basic cooking skills at home has also been a great success.
Asma Rehman, Family & Community Learning Coordinator at Anglesey Primary Academy, Burton-upon-Trent (628 pupils).
We signed up to the Phunkyfoods programme in September 2013. Our reasons behind starting the programme were to inform parents and children of the importance of healthy eating and to encourage parents to improve their own skills in low cost but healthy food preparation. Initially we embedded the Phunkyfoods programme into our objectives for our Family Learning provision. This involved a course of 7 parent workshops developed in partnership with our Community Support Worker covering: hydration/sugar in drinks, the importance of breakfast, school lunch and lunchbox ideas, 5 a day and getting active. Each workshop concluded with a family learning element where children joined parents to cook & eat a healthy snack. The family learning element has been the highlight of our course. We have managed to engage parents and children's interest in a fun and enjoyable way. Pupils have been able to try a variety of healthy foods and snacks which they don't normally eat and parent feedback has suggested children are now more open to trying new foods at home. At the start of the course many of the parents suggested 'there is no way my child will eat that'. As the course has progressed all children have tried and enjoyed many of the foods on offer. By some, the recipes have then been replicated at home. We are fortunate to have facilities and a member of staff dedicated for this purpose. However, all schools could develop the programme through lessons and by utilising the parent workshop session materials. We are now looking to develop a whole school approach to Phunkyfoods which will also involve dinner staff playing a key role in the promotion of healthy eating and lunchtime rewards.