To continue our ongoing celebration of International Chefs Day, last week we took a professional chef into Westfield Primary School in York, and cooked delicious, nutritious, broccoli and cheddar muffins with 90 children – that's a lot of muffins!
These Year 3 pupils learned about what it's like to be a chef, asking questions to Darren Chapman, Development Chef for Nestlé Professional. They went on to make their own healthy muffins, learning key knife skills as well as learning how to measure, mix and bake safely.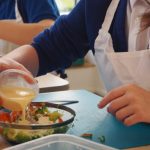 Some of these children had never cooked anything before and were thrilled at the prospect of making, and eating, their very own creations. Some said they didn't like broccoli, although they were all keen to try it which is the most important aspect. How surprised they were though, when they discovered that actually, they loved broccoli! Now it may have been because they'd had such fun mashing it up in their bowls to add to the mixture, or it may have been that they had learned how ingredients can taste differently when combined with other things, but the result is the same. They all loved them.
A special thanks goes to Sheila who has been running the school kitchen for over 30 years. Sheila was very helpful in getting over 180 muffins cooked for the children, whilst getting lunch out to the whole school at the same time.
Just look at these gorgeous muffins…