We found out about the Phunky Foods Programme in the Autumn Term 2017 when we were invited to attend the East Staffs Training Day in November.  Our PE co-ordinator was sent along for a whole day of training and to find out more about the support available.  Following this we were very keen to get going with the programme  and so we signed up at the end of November.
Our local co-ordinator came to carry out a school Health Check in January 2018 – and our key focus for this year was to tackle the standard of packed lunches coming into school and to increase parental engagement.  Our pupils have one of the highest levels of obesity in the area, and we believe that parental involvement is so important to reversing this trend.
Phunky Foods supplied us with templates from which we have created a new school food policy (incorporating a packed lunch policy).  They have also supplied a packed lunch guidance sheet was has been very useful to distribute to parents.  This was then followed up by a parent and child cook and eat session on 25th April 2018.  The session was hugely popular – 78 people attended, including some of the harder to reach families, and feedback was positive.  The session was delivered by our local co-ordinator, assisted by our school Phunky Ambassadors.  We would like to offer more of these sessions next term, we believe it would be helpful to try and attract more of the harder to reach families to these sessions by offering an incentive, such as a voucher for a family meal out.  This is an idea we have suggested to our local co-ordinator.
When we heard about the Phunky Ambassador scheme we were very keen to get going!  We trialed this after Easter, 4 year 5 boys were appointed and have done a fantastic job. They began their role with a whole school assembly on strive for 5.  We were all very impressed with the confidence shown by the boys in delivering their presentation. This was followed by a poster competition, the winners were given Phunky Foods water bottles, and again the boys impressed us with their professionalism.  The boys have also carried out surveys of Yr2 (the results of which revealed a noticeable increase in the number of children consuming at least 3 portions of fruit and veg a day), and most impressively, they attended a trip to Elford Hall Gardens to create a video diary of the fruit and veg growing there.  The video has been shown to various classes within school and is a great method of peer to peer learning.  We are very proud of the way that the boys have represented our school.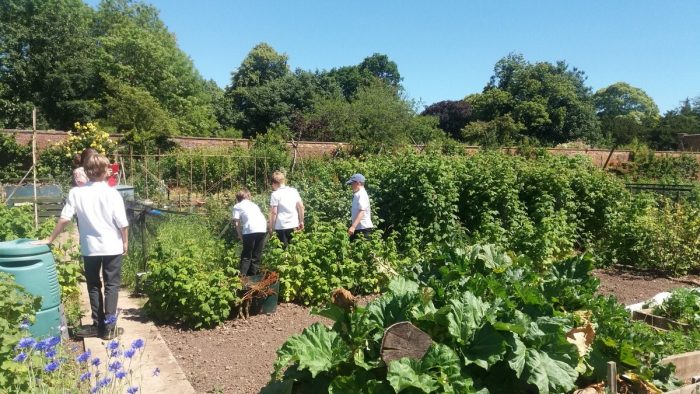 Following a presentation by our local co-ordinator at a staff meeting in January, staff have been very receptive to the programme and are dipping into the resources where appropriate.  For example, our y4 classes have enjoyed making tzatziki this term.  Our staff have also benefited from the CPD opportunity presented by the NCFE Award, this has recently been completed by one of our class teachers.  We look forward to the next academic year, and are hoping to run a new key message, with a new set of Ambassadors.