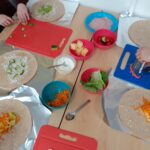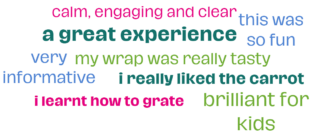 This term, Handcross Primary School in West Sussex have been working on a 'Healthy Me' topic across Key Stage 1. Caroline Cotton, our EDC for the Crawley area, was able to spend two days with the school supporting this topic work, delivering workshops for both the children and their parents.
Caroline worked with Year 1 on the first day, delivering a talk to children on the Eatwell Guide and how it can be used to make healthier food choices. Caroline then led two back-to-back practical sessions for the children and their parents, giving everyone the opportunity to make the PhunkyFoods 'Fun on the Farm Wraps'. This simple food preparation activity offers so much learning to young children! They learnt how to use the bridge and claw method to cut their choice of vegetables and practiced skills such as grating to prepare other ingredients for their wraps. At the end of the session, each child was able to enjoy their creation for lunch and join in a discussion with Caroline about how the recipe fitted into the Eatwell Guide and provided them with a healthy, balanced meal.
It was Year 2's turn on the second day and we were delighted to receive such positive feedback on the sessions from teachers, the children and their parents:
Pupil and teacher feedback:
"I learnt how to grate cheese – I loved it." – Rosie
"My wrap was really tasty – I'd never tried tomatoes or lettuce before, but I really liked it!" – Rowan
"I really liked the carrot – it was very sweet!" – Molly
"Caroline is wonderful with the children – very calm, engaging and clear about safety and nutrition! The children had a great time and learnt loads – thank you." – Sophie (Teacher)
Parent feedback:
"Love the claw and bridge methods for cutting."
"My child and I will be doing more healthy eating at home now that we know where to start"
"Fab workshop- the children looked like they were fully invested! A great enriching experience for them. So important"
"Would love more of these in school."
"Brilliant for kids to learn healthy eating at this age".
"Very informative and fun workshop for the children- thank you!"