This summer the Purely Nutrition team were again involved in the Holiday Activities and Food Programme (HAF), this time across several counties and venues throughout the UK.
The provision ranged from 2 hours of face-to-face nutrition education delivery with a specialist team of nutritionists at over 100 camps in Wiltshire, Shropshire, Bath & North East Somerset, Sunderland, Durham and Wakefield, to training sessions with Nottinghamshire County Council providers and Wiltshire community providers.
Many other providers also accessed the free online material available on the website, including parent information leaflets and kids activity booklets that were used in their holiday camps to engage the children in fun activities and educate them on key messages to healthy eating.
Over a very hot 5 week period starting at the end of July, our teams of nutritionists around the country delivered a mixture of nutrition education theory and practical food preparation which included making a healthy breakfast of overnight oats, a healthy lunch of vegetable cous cous, healthy fruit scones and easy peasy pizza.
Some of the camps had between 60 – 100 children attending, the age range was between KS1 and KS3 and the venues were varied including many schools, sports clubs, youth clubs and some wonderful outdoors settings such as Weston Park, Shropshire Hills Discovery Centre and Mikes Meadow in Batheaston.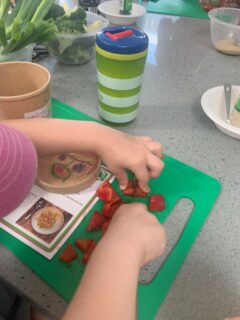 The feedback from the children was extremely positive with many stating how much fun they had getting 'hands on' with the preparation of the food and how proud they were with what they had made, the majority were also often trying something new for the first time at the sessions.
In addition, parents commented on how useful the information sheets were and how their children were now more interested in getting involved with food preparation at home.
The HAF programme is incredibly rewarding. There were many wonderful examples of how much the children benefited from the HAF programme this summer, a highlight from one of the providers was how proud one of the children (with eating disorders) had been having added carrot to their meal when they don't typically eat it which they said was a real breakthrough for them!
Now that the summer is over we are busily working on the planning of our Christmas HAF and more fun activities and healthy eating messages to deliver!