What a great 4 weeks we've had!
Purely Nutrition have been back in Wiltshire supporting the delivery of the Wiltshire FUEL holiday programme over August. These camps provide free activities and hot food to children during the summer holidays. We've worked across 12 camps to deliver nutrition education and hands on food preparation with the children to cover a different healthy eating message each week.
In week 1 we discussed the importance of eating A Healthy Lunch and why wholegrain carbohydrates are good for us. To accompany this, the children made homemade wholemeal bread!
Week 2 introduced the topic of Drain Your Drinks. The children made their own fruit infused water as an alternative to sugary shop-bought drinks, and some even said it was better than Prime! They then took part in making veggie art on a plate to learn the importance of eating 5 portions of fruit and vegetables a day.
Week 3 was all about healthier snacking and how to choose healthier snacks. The children made their own berry and banana cheesecake pots using fromage frais and yoghurt as a source of vitamin D and calcium.
We saved our most popular session until last with homemade pizzas to cover the Eatwell message. The children already had a fantastic understanding of the Eatwell guide and which foods belong to which groups. They really enjoyed getting messy and making their own pizza dough, topped with loads of veggies! To prove its success, 90% of the children said they would make it again!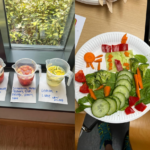 Face to face nutrition education was also delivered to children and camps in Durham and many other areas in the UK received online provider training sessions on 'How to deliver nutrition education sessions for children and families'.
Some providers also accessed the free online material available on the website, including parent information leaflets and kids' activity booklets that were used in their holiday camps to educate them on key healthy eating messages.
The HAF programmes are fun and rewarding for all those involved, and we can't wait to get started again at Christmas!
If you're a provider looking to run nutrition education sessions in upcoming holiday camps, you can view our free material, HAF brochure and price list at https://www.purelynutrition.com/haf-sign-up/.